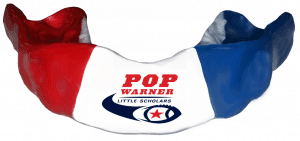 Mouthguards are primarily used by all kinds of athletes, old or young, for protecting their teeth. In most cases, mouthguards are made to protect the upper teeth only. In certain circumstances, lower teeth mouthguards can be created by your orthodontist in Temecula depending on the sport you play or how much protection your teeth need. It's always best to discuss with your orthodontist the best mouthguards in Temecula for you!
Boil-and-bite mouthguards can be bought at any local sports goods store. They are typically inexpensive, but tend to be bulky and hamper speech while placing limitations on the airway.
The best option would be to visit our orthodontics office in Temecula and have your very own custom mouthguard fitted and created by us! We guarantee the perfect fit, ultimate comfort and best protection.
Sports Mouthguards Temecula
If you are an athlete, you may be familiar with using mouthguards, especially if you play football, soccer, hockey, or are a boxer. What most people don't know, however, is that mouthguards are essential pieces of safety equipment that are used for all kinds of sports. When you participate in a sport, your teeth are always at risk. Mouthguards help protect your teeth from sports related injuries by distributing the impact. They not only protect your teeth, but also your jaw.
Whether you are a young athlete or professional, proper protection is key to optimal performance. Take the extra step to protect that important smile with our Sports Mouthguards in Temecula! If you're tired of store-bought mouthguards or have broken your current mouthguard, call our Orthodontic Office in Temecula at 951-302-0685.
Why You Should Choose Custom Mouthguards
Custom Mouthguards in Temecula have significant benefits over the store-bought mouthguards. Our custom fitted mouth protectors will be individually designed in our laboratory for your mouth, and your mouth only! This process starts with making an impression of your teeth, followed by the mouthguard being placed over that impression and created with ultimate personalized dimensions and fitting. Our orthodontics office will make sure your new custom sports mouthguard provides the best protection and comfort there is to offer!
Learn more about our mouthguards and custom sports mouthguards in Temecula by contacting us at 951-302-0685. Get your personal mouthguard today!
NOTE: The author, Dr. Jonathan Rucker, is a certified specialist in orthodontics (Orthodontist). His private orthodontic practice, Rucker Orthodontics, is located in Temecula, California. He received a Bachelor of Science degree at Brigham Young University, his Doctor of Dental Surgery (DDS) from the Medical College of Virginia, and his orthodontic specialty training at Saint Louis University Center for Advanced Dental Education. He is a certified Damon Braces provider and a preferred Invisalign specialist. He offers the most advanced techniques available in modern orthodontic treatment to ensure his patients have a positive and memorable experience while giving them the best possible results.